The Magic Flight Launch Box (MFLB), made in the U.S.A, long touted as one of the best options for new vapor enthusiasts has been held in high regard by the portable vaporizer community. The simply designed wooden box offers a no frills approach to vaporization which helps keep the MFLB price point low.
Powered by one of the two provided NiMH AA rechargeable batteries, you can discretely vaporize at home or out and about daily routines.  The acrylic (Plexiglas) cover allows you to see vapor production as well as monitor your herbs to prevent over cooking. Out of the box, the unit fits in the palm of your hand and is easily one of the stealthiest vaporizers available.  For this review, we used dried herbs- though for anyone with preference in oils and extracts- a concentrate tray accessory is available for purchase.
Impressions?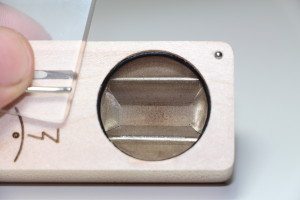 My personal preference for vaporizers has always been for units capable of producing thick clouds of vapor. In hearing some of the criticisms behind the Magic Flight, I was a bit apprehensive on reviewing a unit which produces vapor in a more "wispy" form. But in my experience with using the new "Glyph Batteries", I was pleasantly surprised at how much flavor I was able to extract after mere seconds of activating the battery. Combined with a trench(bowl) size that helps to conserve your herbs, I found myself only packing between .08 – .12 grams. This makes the MFLB an excellent option for someone budgeting their herb expense or the occasional vapist who does not require large quantities of herbs. The smaller capacity may be a positive for some, but  it is common for heavy users to re-pack their trench 1-2 times.
When using  the Magic Flight Launch Box, I found a finer grind worked best over a coarse grind. Coarse grinds would lead to speckling and uneven vaporization. To achieve a proper fine grind, we would recommend purchasing the accompanying Finishing Grinder or Nano Grinder. My traditional 4 piece did not produce a fine enough consistency(even after turning the grinder upside down, as often suggested). One last tip to ensure even vaporization:  dry out your herbs, beforehand. Residual moisture in herbs will only force your unit to work harder to produce vapor. As you engage the unit, be sure to mix contents by shaking. This ensures the herbs are evenly cooked; failure to do so could lead to speckling and partial combustion.
Usage: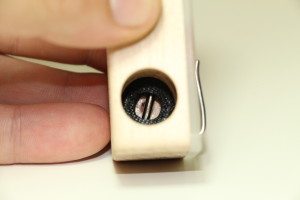 After the battery has been inserted, the Magic Flight is engaged by pushing in the battery. There is a Battery Push Back Ring which does have some resistance, something to consider if you suffer from joint pain. Regardless, this ring may be removed, allowing the circuit to stay engaged and not requiring pushing.  Although, I would advise keeping the ring in as it helps serve as an on/off switch for the unit. The Magic Flight comes with a glass mouthpiece extension, which can be replaced with different varieties/makes and colors- adding customization to your vaporizer.
Still, I found myself using the Magic Flight in its "Native" form without the glass mouthpiece. This helps to increase efficiency by removing any vapor condensation or "reclaim", which might otherwise be trapped in the glass mouthpiece. Another benefit in using the Magic Flight "Native" is that it minimizes its profile, making it more discreet publicly. Cupping the unit in my right hand, while allowing the battery to rest inside my palm, was the best method for using the MFLB without drawing attention. The Magic Flight- like many vaporizers on the market- has a learning curve, which is easily overcome with consistent use. In a group scenario: I would recommend you give each person a quick tutorial, as attempting to use the MFLB like a traditional pipe will not yield adequate results. As you begin to learn the intricacies of this device, you will see the key factors to successful vapor production are:
The amount of time you allow the battery to be active, building vapor.
The slow rate which you draw vapor / Pause and draw (Sipping Method)
A fine grind (not over-packing the trench).
Adequately mixing contents by shaking the unit.
I cannot stress enough how important the last point is; properly shaking ensures the contents do not burn. Additionally, the finer the grind the better extraction your MFLB can produce. Managing the nuances can make the Magic Flights learning curve somewhat challenging. I had mixed results with my ABV initially; but after honing the above techniques(and a weeks practice), I was able to  achieve a even brown consistency. I also credit their new "Glyph" batteries with enabling the unit to function longer and providing more power to heat the boxes contents.
Efficiency
The Magic Flight is only active when the user engages the battery.

Unlike other vaporizers with an oven constantly in use, there are no wasted herbs when the user does not require them.

Unique infra-red characteristics:

The Box makes careful use of infra-red characteristics in its design. While pure conduction designs tend to work poorly, pure IR vaporizers (although uncommon and expensive) tend to be fairly good since they have overall heat distribution characteristics quite similar to pure convection designs for smaller loads. The Launch Box is not "just" a conduction vaporizer–it is also has significant IR characteristics.

A vapor channel that does not lead to excess condensation.

Unlike other vaporizers which have portions to reclaim oil/resin, the MFLB- used natively- requires even less cleaning since the oils are taken in by the user directly.

The box design allows for easy mechanical stirring by shaking the MFLB.

This ensures the contents are heated evenly and prevents combustion.
Dimensions, Weight, Capacity and Temperature:
Dimensions:

Height (including optional glass straw) – 4  3/4 inches
Height ("Native" w/o optional glass straw) –  2 1/2 inches
Width (including battery) – 2 1/2 inches
Weight:

Magic Flight with Optional Glass Straw and battery – approx 59.50 grams
Magic Flight "Native" and battery – approx 57 grams

Capacity – Unlike other vaporizers which require a minimum amount of herbs, the Magic Flight works effectively on even the smallest of trenches. One should not over-pack the trench, which has an approximate maximum load of up to .15 grams. I found myself using only about .10 grams on average.
Temperature* – Range varies upon usage.* There is no dial to control the temperature.
 The temperature in the Box is far from constant, however. It changes continually depending on the rate of draw, over the range of about 260 on the low end to about (when drawing too fast) to about 450F (232C) when not drawing at all (and leaving it on for minutes at a time). Therefore, what we aim to do is to have the temp most easily stabilize at between 370F (188C) and 400F (204C) for a reasonable rate of draw.
What's in the Box:
1 x Decorative tin lined with felt
1 x Magic Flight Launch Box Vaporizer
Made from select maple hardwood, Stainless steel screen (the same material used in high-end cookware), Acrylic (Plexi-glass) cover, steel pins and a stainless steel spring clip (for the cover). There is no solder (no lead) used in the screen bonding.
1 x Draw Stem
The added/optional draw pipe accessory (not necessary to use the Box) are now made of glass (they were previously made of Acrylic).
2 x Glyph NiMH Batteries engraved on the negative end (w/ black rubber caps and a white glyph)
1 x Battery Charger
1 x Cleaning Brush
1 x Instruction Manual
Cost and Availability:

The Original Maple Magic Flight Launch Box has a retail price of $119.00.
Be mindful  in your order that you receive the latest Glyph batteries, as they deliver higher temperatures than the older batteries.
In my personal experience, I have been pleased with ordering the Magic Flight Launch Box through VaporWarehouse. They are authorized sellers; so you can rest assured about the Life Time Warranty and VaporWarehouse offers Free Shipping + Acrylic Magnetic Grinder + Acrylic ABV Container. 
The Bottom Line:
This vaporizer is built solid and has enough accessories to turn it into a full fledged desktop. The recent advances in their "Glyph" 2400 mAh low self-discharge (LSD) batteries versus the old 2000 NiMH batteries provides a more enjoyable experience. The new batteries hold a charge longer and run hotter. I am able to clear 2 full trenches on a single battery which is sufficient for my needs; but it did require some time to clear each trench. Users requiring more than the MFLB's capacity may find the time spent consuming herbs, repacking and  limited battery life a hindrance. Fortunately, the folks over at Magic Flight have a solution to your power concerns by offering a Power Adapter. At the date of this review, Magic Flight has already released version 2.0 of the Power Adapter. In addition, the Life Time Functional Guarantee adds peace of mind to your order, since accidental damage is covered under the warranty.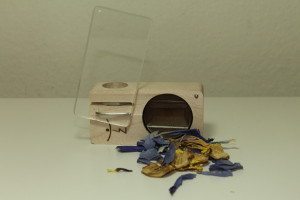 Warranty does not cover lost, stolen, defaced, or willfully damaged units.   Warranty also does not cover units with the serial number sanded off or not visible. Shipping charges may apply.
For this reason, we strongly advise you purchase from authorized sellers to ensure your warranty claims will be honored. All in all, the MFLB has carved itself a niche as an excellent choice for the light to moderate vapist. For heavy users, it is certainly good for maintaining the effects of your herbs. In my opinion, the MFLB also helps limit your herb intake... I often overlook  the effects felt on lower dosages and typically pack larger than required quantity.  What I enjoy most has been "the ritual" behind filling each trench, learning the timing on engaging the battery and the finesse  of the draw. For these reasons the Magic Flight Launch Box is a unique experience.
Pros

:
Lifetime Guarantee
Competitive Price Point
Durable construction
Light weight
Stealthy and fits in your palm.
Easy sliding Plexiglas lid locks your herb contents in place.
Accessories to customize your MFLB experience.

Power Adapter conserve your batteries and allows for prolonged usage.
Concentrate tray allows you to use oils and extracts.
Grinders allow for better consistency and vaporization.
Water Pipe Whip allows you to use your MFLB with your existing waterpipe.

Self contained screen prevents herbs from entering air flow.
Using the device Native reduces any lost oil/resin from condensation.
Neutral:
Conduction and IR Heating
Small Trench helps conserve herb intake.
Need to shake the vaporizer to mix content.s
Requires fine grinding to achieve best results.
Optional glass straw allows you to see the vapor stream.
Plexiglas lid allows you to see vapor production.
Pushing the battery activates power (On / Off Switch)
Easy cleaning with provided brush. A more thorough cleanse via a cotton swap + 91%+ ISO on the screen.
Small indicator light lets user know when the battery is engaged. Note: this is not covered under their warranty.

Cons:
Short Battery Lifespan (2 Trenches)
Fluctuating temperature range while in use.
Inability to control temperature.
Learning Curve – User difficulties, inconsistent ABV and traces of combustion with black speckling.
Duration to vaporize a single trench is somewhat long.
Users with high tolerance may find the need to prepare/consume 2-3 trenches.
Accidental Combustion can char the wood underneath the trench.
Additional Images: