About the size of a Magic Marker, the Source Ghost is an inexpensive 3-in-1 portable vaporizer.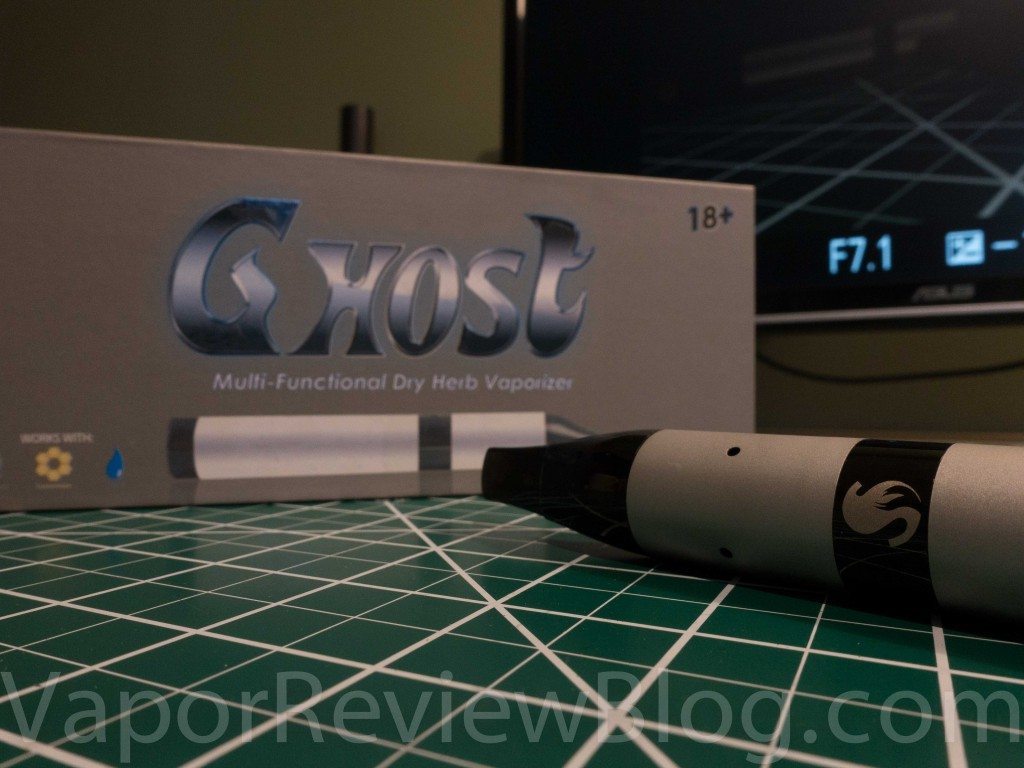 What's in the box?


Source Ghost
Concentrates can
Accessory pouch containing tweezers, stirring/packing tool, brush
USB micro charging cord (not pictured)
Manual
Experience
Dry Herbs
The Source Ghost gets the job done with dry herbs. It has three preset temperature settings, all of which can produce satisfactory  results.
Lowest temperature setting (374F) is indicated by a

blue

light. The Ghost always starts on this temperature when you turn it on. I can see faint clouds from a fresh pack of dry herb. First few draws taste alright.
Middle temperature setting (410F) is indicated by a

green

light. Slightly thicker clouds.
Highest temperature setting (446F) is indicated by a

red

light. I can't say for certain that the herbs get cooked to 446F precisely, but they get cooked at a high temperature without any charring or foul taste. Hits at this temperature produce thick clouds, I was impressed the first time. The clouds caught me off guard.
The chamber comfortably holds .1 gram of dry herb. If you pack it a bit you can push it to .13 grams, any more would be too tight. This is an economical vaporizer.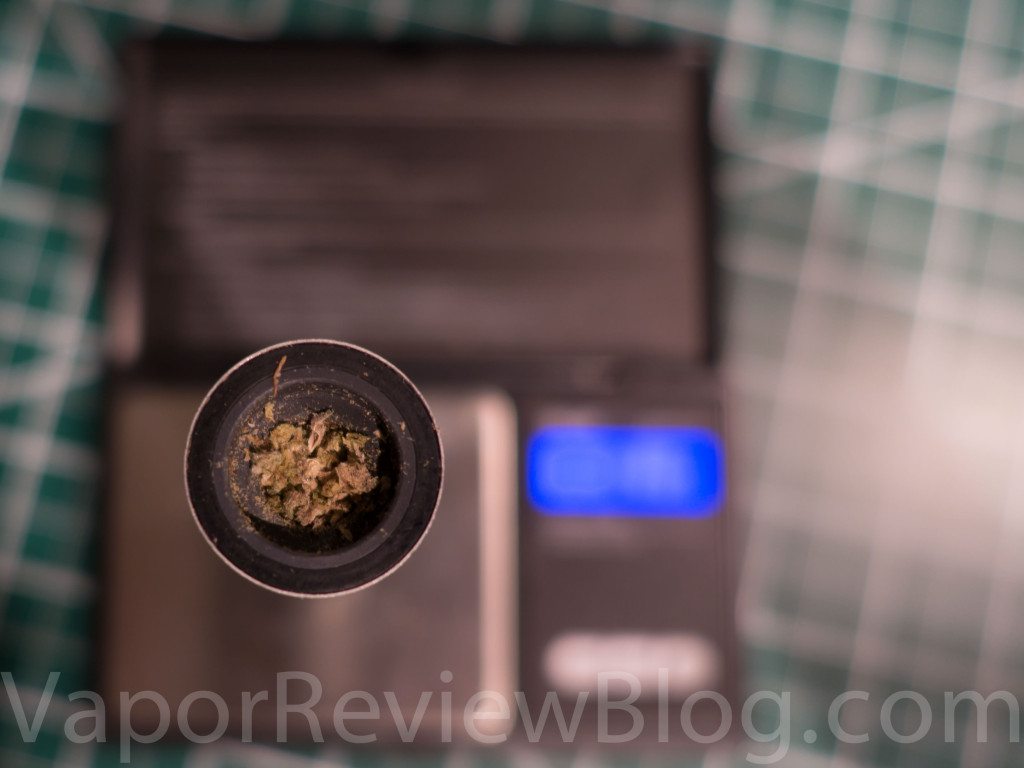 Concentrates and Essential Oils
I'm not quite sure what I expected from the concentrates and essential oils cup. It gave weak wispy hits of concentrate that was melted into the cup.
It works, but I don't plan on using it. The Source Ghost is primarily portable dry herb vaporizer for me.
Battery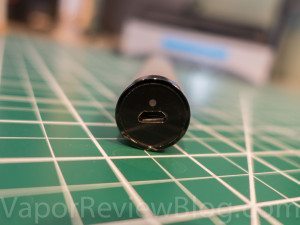 The battery has easily lasted through an entire day with moderate use. However, my attempt at getting a hard figure on battery life were unsuccessful.
I'd like to note that the micro USB charging port makes it extremely easy to charge the Ghost. Even if you don't happen to have your own cable handy.
You can still use the Ghost while it's charging, this means that when paired with an external USB battery pack, the Ghost has the potential to have an extremely high battery capacity.
Having a vaporizer with a dead battery isn't helpful. The Source Ghost gets high marks in the battery department.
Taste
Taste is a touchy subject. The Ghost doesn't deliver much of the pleasant taste from herbs, it does however deliver an incredibly consistent toasted herb taste. Some refer to this as the burnt popcorn taste.
Perhaps I'm being too harsh. The first draw on the blue temperature setting is pretty tasty. That's about it.
Consistent toasted herb taste is a fact of life with conduction vaporizers. The Source Ghost is no exception.
Plastic Mouthpiece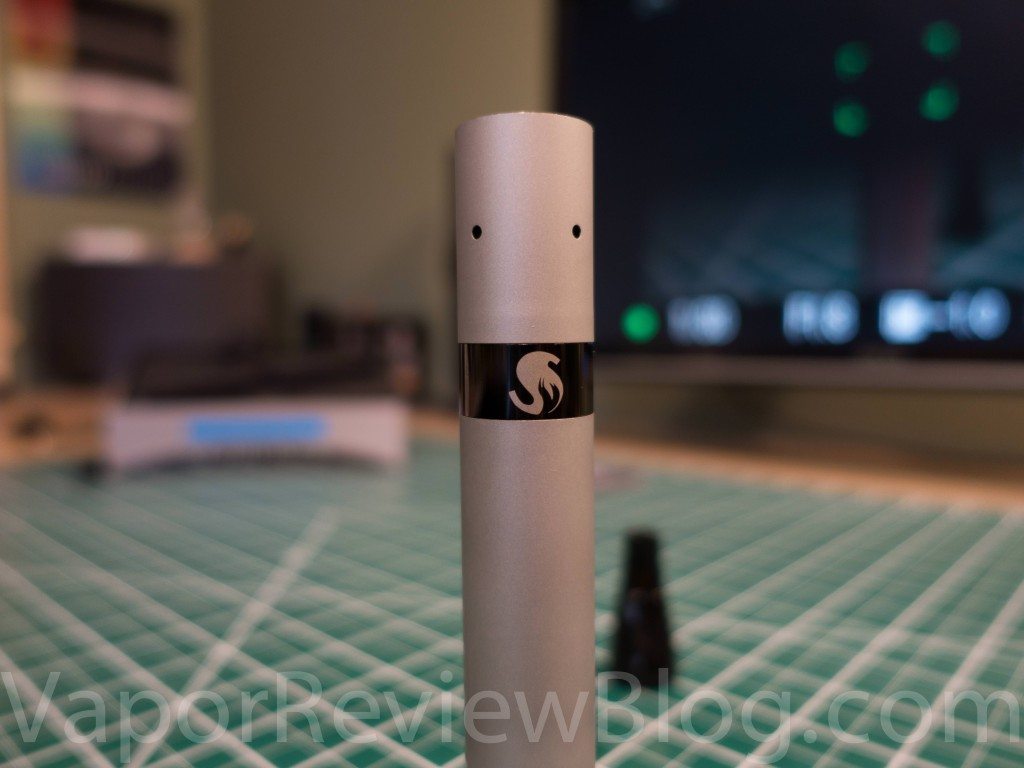 I'm alright with the plastic mouthpiece. The screen that descends into the hot herb chamber is made of metal, none of the plastic parts are exposed to extremely high temperatures.
I didn't get any funky tastes from the mouthpiece either. Perhaps because I make sure to clean and "burn off" all my new vaporizers.
Seems that the problems that normally plague plastic mouthpieces aren't an issue with the Ghost.
Agressive Auto-Shutoff
Three minutes from the last time you interacted with the Ghost.
What does that mean?
When you turn the Ghost on, a three minute timer starts.
If you change the temperature, the three minute timer restarts.
Once the timer runs down, the Source Ghosts turns off.
The manual suggests waiting three seconds before restarting the Ghost after shutoff.
Oops, I haven't been doing that…
In fact, sometimes I'll power cycle the Ghost while it's still on to restart the timer.
Build Quality
I'm satisfied with the build quality. The Ghost feels solid in the hand and features only one moving part (the button). Not much to break here.
Heatup
The Source Ghost heats up to blue in just under a minute.
You can expect to add about 15 seconds of heat up time for each jump in temperature (blue to green, and green to red).
Value
The Source Ghost sells for $99 which is a good value for what you get. The ease of use makes the Source Ghost a great way to introduce someone to vaporizing.
Closing Thoughts
The Source Ghost can be compared to a budget airline.
You get consistent no-frills experience, minus the bells and whistles, with the cost savings passed down to you.
I give it a thumbs up and a buy recommendation for anyone looking for a "get out and vape" dry herb vaporizer. The big clouds are a plus.
You can buy yours directly from SOURCEvapes.