The VapeXNail is a relatively small glass accessory that is used to vaporize oil-based (oil, wax, shatter, etc…) concentrate through the VapeXhale Could Evo.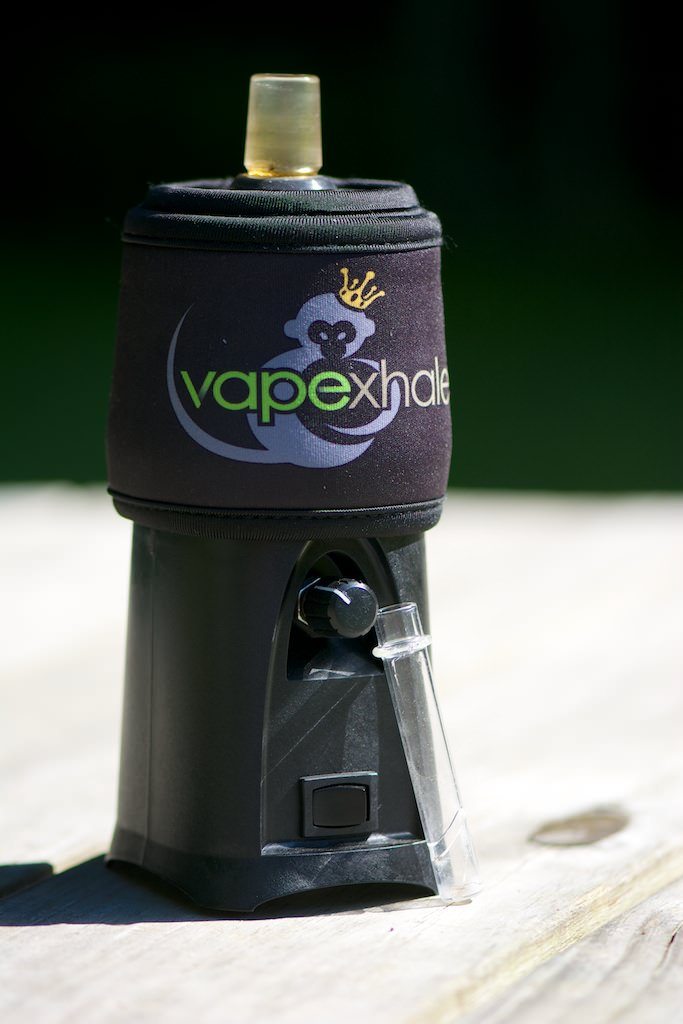 While not disposable, I consider VapeXNails to be consumable. Over time the nail may develop cracks from use (or abuse) which will eventually lead to a broken nail.
My nail (a few weeks old) has two sizable cracks and still runs like a champ.
There isn't a whole lot to look at, and care has been taken to clean up and fire polish all the sharp edges. Small details like this are what separate exceptional glass products (VapeXNail) from mediocre ones.
Functionality
I like to turn my Evo to 10:30 – 11:30 on the dial and let it preheat to the desired temperature.
Using a small titanium tool I load the bottom of the nail through the opening in the side with oil.
I then drop (place gently!) the nail into the Evo. Looking right down into the nail, I wait until I see the vapor begin to appear.
Once I see vapor production, I draw.
Alternate Method
While not the advised method, I like to preheat my nail in the Evo.
When it comes time to load my concentrate I ball it up (if I can) and drop it right down into the nail. Vapor production begins instantly.
Draw.
Here is the problem with this method, if your concentrate doesn't make it to the bottom of the nail, it won't vaporize very well, or quickly. I usually prod a tool at any stuck concentrate and shove it down.
This isn't the most elegant method, but it works and it saves on handling a hot nail.
Cleaning
Cleaning the VapeXNail… Keep it clean enough to taste good, don't drive yourself too crazy. Cleaning my VapeXNail is how I've done most of the damage to it, especially using a torch to burn off any residue left inside.
The VapeXNail can easily be completely* cleaned by running the Evo at maximum temperature with the nail inside. I've found I can leave the nail in the Evo set at vaporizing temp (10:30 – 11:30) and still get the bottom of the nail clean.
Its VERY important to keep the nail clean enough. A dirty VapeXNail will taste dirty and smokey.
*Completely cleaned within reason, it won't sparkle.
Value
Anybody who currently owns a VapeXhale Cloud Evo and has an interest in vaporizing concentrates or extracts should get a VapeXNail. Its an awesome addition to an already powerful vaporizer.
Verdict
The VapeXNail hasn't replaced my other concentrate vaporizers, but it certainly holds it own. My preferred loading method has less downtime than the suggested method, but will add a certain burnt funk to the taste if I don't let it clean itself between uses. I've found that if used in a group of a few people, unless I'm cycling multiple nails, there will be a burnt taste after the first hit or two. For this reason, I prefer to use the VapeXNail when on my own, or in a small group (two people).
Should you get the VapeXNail if you own an Evo? Yes.
I got my VapeXNail from VaporWarehouse, you should too. These guys have been around forever and take great care of their customers.