Introduction
The Arizer Solo is arguably one of the best portable vaporizers on the market. It comes highly recommended from everyone who uses it. It's about the size of a small coke can, but has a nice heft to it. The Arizer Solo has had many revisions since it's initial release in 2011. The newer versions have a stainless steel oven (as opposed to the ceramic oven found in the first version). Some say they can taste a difference in vapor quality with the ceramic oven, but I don't have one to test out that theory.
Why Solo?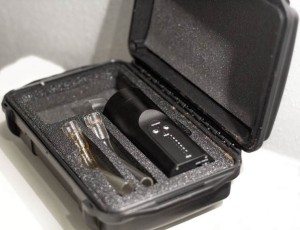 I mostly use the Arizer Solo at home on the couch. I have a very nice vapecase that makes traveling with the glass a touch easier. It seals much like a Pelican case would. I even store herbs inside without any smell. The Solo's simple design makes it easy to use. A lot of my friends aren't familiar with vaporizers which can lead to strange looks when I hand them a weird future box that lightly cooks herb. With the Solo I haven't had that problem, it's clear how to use it from the moment it gets in your hands.
Performance & Use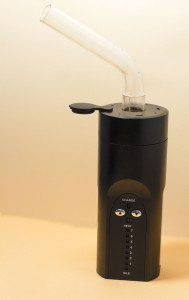 The Solo is a rock solid performer. Load up your herbs into the glass stem and insert it into the heating chamber up top. Pressing the up/down buttons on the front at the same time will turn the unit on. Then dial in your desired temperature. The temperatures range from 1-7, with 1 being the lowest (at about 122° F) and the highest being 7 (at about 410° F). I've found my sweet spot between 5-6. I like to vape my herbs until they have nothing left to give. I find that can take me anywhere from 20-30 minutes depending on the herb. The Solo is incredibly effective when vaping, when it's time to empty my duff it's always a nice even dark brown. I have found it vapes evenly without stirring but a light agitation might help you get more out of your herb.
The Solo has a timer that will shut if off after 12 minutes. It's come in handy once or twice, but mostly it's an annoyance. I find it can take anywhere from 3-5 minutes to get thick clouds out of the Solo and to have it cut off right as I'm getting in a groove can be a pain.
The Solo has the longest battery life of any other vape I've used. I can generally get the battery to last 5 or 6 bowls (I run each bowl through 2 or 3 12 minute sessions). It can take an hour or two to fully charge the Solo, but once it gets going there's no drama.
Attachments
I have two third party glass stems from PlanetVape.ca: a PVHES (PlanetVape High Efficiency Stem) Straight and a PVHES Bent Turbo. I didn't buy these when I bought my Solo but I wish I would have. I would highly recommend considering a third party stem as part of the essential Solo experience.
 The Planet Vape PVHES Straight stem is my current favorite. It provides the perfect amount of airflow, allowing for really pretty clouds. It's not too hard to draw on (which is a problem with the stock stems). It fits a little loose but Planet Vape provides a nifty O Ring to keep the stems from wiggling.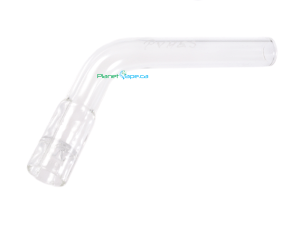 Another Plant Vape stem is their Turbo line, which loses the glass screen altogether and replaces it with a single metal screen. The Turbo provides a little too much airflow for my tastes. It's great for getting cooler vapor, but if you're chasing clouds you won't find them here. Planet Vape also sells a wonderful Glass on Glass stem for use with a water pipe or bong. They come in 14mm and 18mm sizes
Price
For me the Solo is a daily driver.
It's perfect for use around the house.The Solo can be purchased here. I believe the Solo to be THE best value on the market today for a powerhouse portable. No other portable on the market can pack the same kick.
Downsides
I don't have many gripes about the Solo, but it does have some drawbacks. First of all the stock glass stems don't have a lot of air flow. You'll get high, that's for certain, but once you use a modified stem like the ones mentioned above I doubt you will ever go back. It's not as portable or as stealthy as the Pax, but it beats the Pax hands down in terms of vapor production and flavor. I have a feeling that glass stem draws more attention out and about than something without a big glass tube sticking out, but I haven't got any conclusive evidence for this. I'm not crazy about the auto-off timer, but I can see how it can be useful for others.
Look and Feel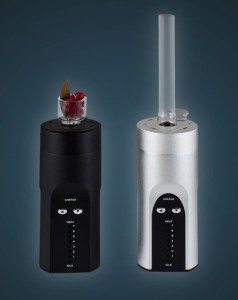 The Solo is about the size of a Redbull can. It's got a nice weight to it and feels well built. I've never dropped mine, but it looks as though it can withstand a good beating. The glass stems are another matter: I've broken a few of those in one stupid way or another. The temperature up and down buttons have an audible click that doesn't feel satisfying (feels soft), they can also be kind of loud. When my wife hears CLICK CLICK CLICK CLICK CLICK it's pretty obvious that I'm watching Ghost Hunters at 3 AM and talking with the spirits. This is a minor problem, not a dealbreaker for me by any means, but it would be nice to fire this thing up without letting everybody know what's happening in my world.
Verdict
For me the Solo is a daily driver. It's perfect for use around the house. Occasionally it will take a field trip and see the sights, but it's size keeps it from being a true travel vape for me. All that said, I would buy the Solo again in a heartbeat. It's a bargain. I'm thinking about giving them to friends as Christmas gifts.